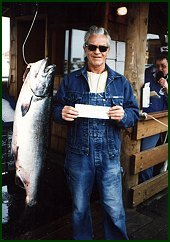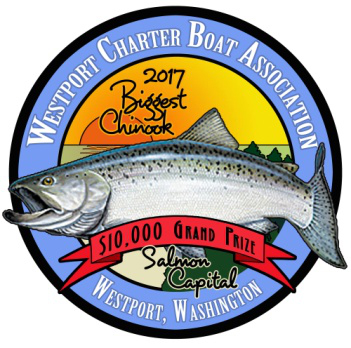 The Westport Charterboat Association has been sponsoring Fishing Derbies for over fifty years now. In the early years they covered a week-end. Today, the Derby is on every day of the season.
Before and after salmon season, the Derby is operated on a weekly basis. A cash prize up to $500.00, equivalent to half the derby ticket sales proceeds for the week, is paid out for the biggest Lingcod, Blackcod, or Cabezon of the week. During the Halibut Directed season, the Halibut prize is a $500 daily prize with a $10 ticket. The Lingcod derby continues weekly.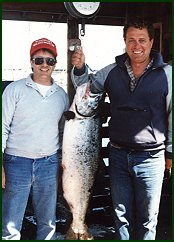 During the Salmon season the Derby is operated on a daily basis with prizes up to $500.00 for the largest Salmon and a weekly prize of up to $500 for the largest Lingcod of the week.
Donít miss out on your chance to WIN the $10,000 grand prize for the largest Chinook (King) salmon of the season in the Westport Charterboat Association derby. Grand prizes will be awarded for the largest Coho Salmon, largest Ling Cod, largest Halibut and largest Albacore Tuna as well.
Derby entry is only $5.00 and tickets are sold at every WCBA member Charter Service and at the Derby Booth. When you check in, ask for more specific details. Derby ticket purchases are limited to people fishing on licensed WCBA member charter boats. Derby proceeds are split between prizes and funding the association.